February 10 2020 by Admin KK
We are now offering monthly retreats with Energy Healer – Elaine Whillock.
These retreats are designed to encourage wellbeing by releasing blockages of stored energies and recharging within a natural environment
Ideally, an overnight stay allows guests to reap the full benefits of the program but we can also offer individual day or evening sessions.
Evening Sessions – Energy Healing
Friday & Saturday from 6pm
The Energy Healing Evening sessions will comprise of a maximum of 20 guests. We will be gathered in a candlelit room, and you will have the choice to sit in a chair or lie on the floor.
We begin by going into meditation, using Sound Therapy music that includes psycho-acoustics, harmonics, resonance, toning, and chakra frequencies, to engage you into a deep state of relaxation.
You will be encouraged to use abdominal breathwork, and the healer will connect with you on an energetic level, allowing your mind and body to go into a transient state. During the healing session as blockages are removed, you may feel tingling sensations over your face, arms, and legs. You may feel your body "jump" or move as the energy fields of the body release.
As this happens, the temperature in the room and also within your own body will increase, and you may start to perspire which is not uncommon. At this point, a cool wind might appear from behind, above or below you.
As you are guided deeper and deeper into a state of relaxation, you may experience being taken back to significant events from your childhood which were meaningful for you.. This is just the body being healed as emotions associated with these significant events are released.
Everybody in the room will have their own unique experience from the session because people release emotions differently. Some may prefer to release in silence using breathwork while others may choose to express more vocally – each person needs to find their own way.
These energy sessions can be pretty exciting, especially if we have experienced a dramatic release.
After the session, everyone is invited to a supper ceremony, giving you an opportunity to share and discuss your experience. After an energy session, participants can experience a profound change in their life. You may sleep better and feel more peaceful. Your relationships with others may become easier since unwanted negative energy and blockages have been removed.
Life can just look better, and you may feel your luck improving. You may feel happier, lighter, and most importantly, you may feel a better state of love within and around you.
What is Energy healing?
Energy healing is a holistic practice that activates the body's subtle energy systems to remove blocks. By breaking through these energetic blocks, the body's inherent ability to heal itself is stimulated.
A more detailed description and benfits can be seen here:
What everyone should know about energy healing
Day Sessions – Forest Bathing
Saturday & Sunday from 11am
The term Forest Bathing can conjure up swimming or bathing in the forest, but this is not the case at the Ranch! The bathing is related to "bathing our senses" of seeing, smelling, touching, hearing, and feeling, within the energy of the trees of the forest.
The is not a hike, but a slow stroll which is practised in complete silence, allowing you to connect on a deeper level with, the sound of your shoes on the path, how the trees look as they blow in the wind, the inhalation of the pines in the fresh air, the feeling of the birds as they fly overhead.
By taking time in this powerful environment, to tune into your senses, this allows the mind to quieten from busy thoughts, bringing you more into the current moment. Forest Bathing Walks are effectively a naturistic deep cleanse of the senses of the soul. Each month we will be exploring different themes of Forest Bathing, and some of the topics we will be looking at are :
The Power of Trees
Invitations of Earth, Air, Fire and Water
Talking to trees and how trees communicate with humans
Soulular presents found in the forest
The physical, mental, emotional, and spiritual benefits of forest bathing.
Again after each forest bathing session, the group will be invited to a food ceremony for discussion of the experiences they had in the forest.
What is Forest Bathing?
Forest Bathing, also known as "Shinrin-yoku," refers to the practice of spending time in forested areas for the purpose of enhancing health, wellness, and happiness. The practice follows the general principle that it is beneficial to spend time bathing in the atmosphere of the forest.
A more detailed description and benfits can be seen here
Science agrees: Nature is good for you

Overnight Retreats
To gain the full benefit from our Energy Healing Weekend program, we recommend you stay for the full weekend, to experience the beautiful transformation our program can bring you.
Our overnight guests are encouraged to participate in a unique spiritual yoga session at sunrise with Cordelia – a transformative experience.
A hearty breakfast is served and a time to take in the tranquillity of this unique location.
Sessions and Accommodation should be paid separately as shown below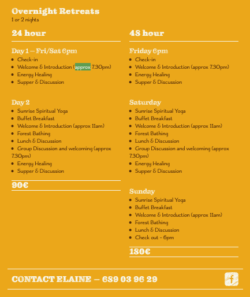 For therapists working in the wellbeing sector, we can give you an approved ThinkTreehub CPD certificate in Energy Healing once you have completed the weekend program.
Your Healer & Guide – Elaine Whillock
We are happy to introduce our first energy healer – Elaine Whillock. Elaine is a registered massage therapist, healer, teacher and a long time resident of Tenerife's alternative healing community.
She was drawn to the Ranch because of its geographical location – embedded into a volcanic rock in the heart of a pine forest, yet overlooking the Atlantic and harnessing the magic of the ocean's energy.
Categorised in: Uncategorized
This post was written by Admin KK