Book your tickets now!
It's countdown to the 2022 Holistic Health Exhibition and Beauty UK! Finally, we can meet you all in person again in the beautiful Coventry Building Society Arena on Sunday 22nd and Monday 23rd May. It's looking to be extremely popular as an opportunity to 'get back to normal' and meet up with other complementary and beauty therapists. And our CPD Seminar Programme is bringing world-class talks, demos and workshops to visitors.
We have four themes for you and your friends, each taking up a half day: Mental Health and Your Wellbeing, Understanding Cancer Care, Your Health, and Business after Covid.  With something for everyone to enhance both their career and their own personal wellbeing, you can book a morning or afternoon session for just £5 per person and all monies raised will be donated to the charity, The Healing Hands Network [http://www.healinghandsnetwork.org.uk/index.html] – run by Think Tree Hub member Sue Stretton.
So who can you see at our workshops?
On Sunday we have: Dr Alka Patel, Angela Lewis and Peter Smith, Marey El Hamouly, Lumpai Kummoo, John Holman, Joseph O'Dwyer, Marc Innes, and a panel discussion with the Standards Authority for Touch in Cancer Care. On Monday we have Clare Spink, Leyla Moudden, Yvette Jordan, Lorraine Ingram and Natalie Menzies, David Balen, Feisal Umar and Dr Zoue Lloyd-Wright.
Book for workshops and you will also be sent a CPD Certificate worth 5 points per half day. Here's where to find out more and book your here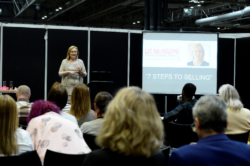 Holistic Health will also be providing inspiring demonstrations from leading educators, well-loved and upcoming brands and the chance to meet with like-minded professionals from across the industry.
The event will showcase new product ranges, training, and equipment to stay ahead of the competition. There are £1,000s of special offers from exhibitors together with the latest developments in complementary therapies.
There will also be a range of tutorials and talks on the Holistic Stage and Salon Owners' Business Forum.
What you will also receive with a show ticket is a goody bag worth over £50 RRP OR a £10 voucher to spend at the show on participating exhibitors or catering, along with FREE parking at the venue – usually this costs visitors £8.  There are 2000 on-site car parking spaces and the Arena is 800 yards from J3 of the M6 and within easy distance of the M1 and M40.
Book your tickets to the 2022 event by visiting www.HolisticHealthShow.co.uk. For any ticket queries, please contact info@beautyserve.net.