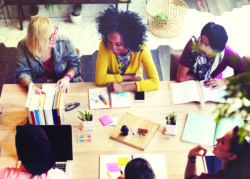 Launching in May FREE Monthly Online CPD for all Members
We will be hosting a new free and exclusive CPD programme of 'Learning Lunch' webinars broadcast live at lunchtime on the first Friday of each month starting on 3 May 2019. They will be hosted from our new live broadcasting software and online learning hub.
Webinars are live interactive events hosted over the internet and they provide busy professionals with many benefits. Individual attendees can watch, listen and participate in the learning activities from a convenient location anywhere in the world using a desktop computer, laptop, tablet, smartphone or other web connected mobile device.
Expert contributions from experienced industry professionals will enhance understanding of the key topics we cover. HD video and high-quality sound ensures a great learning experience for those watching live. For those with prior commitments who can't tune in, ThinkTree will post an edited video recording enabling on-demand, catch-up viewing at your convenience following the live broadcast.
We know time is valuable so each ThinkTree learning lunch webinar will be tightly focused and last around 30 minutes. Over time we will cover a range of bespoke CPD topics designed to inspire and help you reflect on important specialist business practices, tactics and skills.
Check out and register with our programme details below, with our first webinar starting Friday 3 May, 2019 at 12pm 
Friday 3 May, 2019 Planning Successful Training
12-12.30pm LL1b What do you need to think about before planning a course or CPD session for the first time Sign Up Here!
1-1.30pm LL1a How to plan an approved or accredited course for the first time Sign Up Here!
Friday 7 June, 2019 Delivering Successful Training
12-12.30pm LL2b You CAN do it! Top tips that will really help you manage those 'first time trainer' nerves Sign Up Here!
1-1.30pm LL2a Practical training delivery considerations that comply with approval or accredited course requirements. Sign Up Here! 
Friday 5 July, 2019 Assessing Successful Training
12-12.30pm LL3b What does the term assessment actually mean Sign Up Here!
1-1.30pm LL3a Embedding formal and informal assessment into your approved or accredited courses Sign Up Here! 
Friday 4 August, 2019, Evaluating Successful Training
12-12.30pm LL4b Why is evaluation such an important component of successful training  Sign Up Here!
1-1.30pm LL4a Designing evaluation techniques that meet your approved or accredited course requirements Sign Up Here!
For any further details email info@thinktreehub.com
for any further details email info@thinktreehub.com