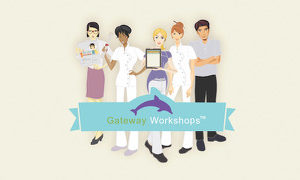 Description
Multi Award Winning National Massage, Beauty & Holistic Training School
Myofascial Cupping is a unique and extremely effective therapy, based on ancient Chinese methods of creating healing in the body through negative pressure by means of suction. It is a soft tissue therapy that involves the application of decompressed cups on the skin, creating a vacuum effect that lifts up underlying tissues such as the fascia (the connective tissue), muscles, blood, and other fluid close to the surface of the skin.
We don't demonstrate a facial routine, however if the cupping kit you buy (the tutor can recommend the best and the most affordable ones) has the really small cups included, then the methods taught can be applied to the face and the tutor does talk about this in the course.
At the end of this course, you'll have some great techniques to help overcome pain, tension, and therefore boost physical and mental well-being.
You can use this therapy professionally with clients, it is insurable, enabling you to charge for your services.
Open to qualified Therapists with a Level 3 in Massage and Anatomy and Physiology, full course content/syllabus is located below.

If you are in any doubt that your massage is a level three qualification – please make sure that you email us so that we can check it on your behalf with the course tutor.
Your qualification needs to be verified before you can be accepted onto this course, we can help you with this by email however if you sign up for this course and your level 3 is not accepted by our insurance companies requirements there is a £5 charge made on any deposit refunds (this is because we are charged by the payment processors which we have no control over) however you can easily avoid this by checking with us first if you are in doubt with regard to the level of your qualification as we are happy to help you with this.
Thankfully as we have this checking process in place it avoids any issues so the booking is easy and straightforward for you and we do not charge you for our time to verify and check your qualification we are happy to help with this if required.
This is an accredited, professional and recognised course, with full tutor support and no compromise on quality even when you see a discounted offer.
Practitioner certificate on completion.

✅ Our accredited courses are written by our expert skilled & qualified tutors, with in-depth knowledge of the subject.
✅ Your tutor is available to email with questions when needed.
✅ Easy learning at your own pace, with a year's access to our platform.
This is an insurable course allowing you to use this therapy with the general public and charge for it.
Course Price Was £195 – save 40% now £117
The Gateway To Your Potential
Established 1998 – Trusted, ITEC Approved, Professional Courses. Recognised Qualifications for Beginners to Established Therapists.
We started with just workshops and now we are the leading experts in our industry for professional courses – Latest up to Date Training
Popular & Affordable Courses with over 25 Passionate Expert Tutors
Located in London, all around the UK, Scotland and also Ireland
We also offer in-house training, we currently train all of Bobbi Brown's UK staff yearly, Channel 4 Make-up Artists and at Top Hotels and Spas
Receive these Gifts when you Train with us – Giving you added extra of over £50!
FREE TO ALL OUR STUDENTS WHEN YOU ATTEND:
Anatomy and Physiology e-manual
Copy of our therapist accounts package
Access to our complimentary 'Hands Free' Massage Video Download too!
Access to course reference videos helps you remember routine taught
Discounts off therapist insurance and products
Course Bookings
Book your place now to secure the date you require, we have regular dates both weekends and weekdays at over 20 locations across the UK, Scotland and Ireland
Our online accredited courses are still running and available to book now – with full tutor support and expert guidance when needed.
Providing you the highest level of hygiene and safety at our venues.
It is vital we maintain high standards in our industry, when you book with us you receive the best training, with tutors who are the leading experts.
Latest therapies clients want – Insurable Training for Professional use.
We are award winning due to expert tutors, top rated courses & after-care, looking after our loyal students.
Why Are We Different?
Started in 1998, solid history, proven track record means we know what we are doing and really look after our students
Expert tutors offering regular weekly dates at over 25 locations across London, all around the UK, Scotland & Ireland
Constantly striving to deliver the best courses, great manuals included in the price and many reference videos and helpful after course material
The products you work with on the day and your manuals are all included in the price of the course
Our Promise – Need to Repeat Your Training?
For one day courses held at our venues, YOU CAN do this at no charge!
Worried that one day's training may not be enough? We have you covered
Due to the 1-1 attention in small classes with our excellent trainers
We have back up DVD's or you can repeat the course within 6 months (at a time which is convenient to both parties) at no charge.
For Full Course Information and to Book Please Follow the Link:
 https://book.gatewayworkshops.co.uk/products/cupping-myofascial-practitioner-course
Contact
E: sue@gatewayworkshops.co.uk
T: 03331210742