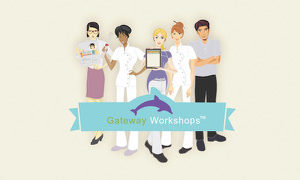 Description
Multi Award Winning National Massage, Beauty & Holistic Training School
Our Menopause Nutrition and Weight Loss Management Practitioner Course is a professional online accredited and recognised diploma course, offering a fully certified qualification for anyone wanting to become a qualified Menopause Nutrition and Weight Loss Management Practitioner.  Menopause often gets a bad rap, with many women often dreading going through this phase of life because of its long and intimidating list of unpleasant symptoms. Women often suffer from hot flushes, moodiness, sleeping issues, fatigue, depression, a slowed metabolism, and more. It's completely understandable to feel uneasy about this impending hormonal roller coaster ride! Thankfully, there are plenty of steps people can take to optimise their health and make the transitory period of menopause much smoother.
Nutrition is incredibly important at all stages of life, but menopause comes with a set of specific effects on the body that make a healthy diet especially important during this time.By the end of this course, you'll have the knowledge, along with some great tools to be able to offer an individualised wellness plan in order to support clients in their own transitional journey through the menopause. This course will teach you the important nutritional factors that need to be considered when working with clients, along with effective tools and strategies that can be used to not only improve nutrition and general wellbeing but also help with weight loss and/or avoiding weight gain.
You can use what you will learn to help yourself and others around you. As this course is professionally accredited and recognised, you can use the knowledge you gain to work as a professional Menopause Nutrition and Weight Loss Management Practitioner, if this is the path you choose.
The Menopause Nutrition and Weight Loss Management Practitioner Online Diploma Training course covers some information on the Menopause, but it really focuses on the Nutrition and Weight Loss Management side, as it's a symptom that many women struggle with during the menopause transition. If you are looking to take a course to develop your knowledge of menopause and gain a much fuller understanding of why menopause causes the symptoms that it does and how you can implement a programme of healing that suits you as an individual, or for your clients, then we would recommend you take the Menopause Wellness Practitioner Online Diploma training which can also be found on this website at a discounted price.
Open to complete beginners without any previous therapist experience.
No coursework, no hundreds of live case studies or exams, just assignments to be worked through after each module at your own pace.

This is an insurable course allowing you to use this therapy with the general public and charge for it.
Why Choose this online Course?
Learn with an award-winning national training school
Expert, passionate tutors
Fantastic support when you need it
No set classes to attend
No traffic or parking costs, learn from home at your own pace
No timetables or deadlines means – No pressure.
Learn at your own pace quickly – or if you prefer – taking your time fitting it in around your family and other life commitments.
No maximum age limits.
Course Price £111.00
Save 40% Was £185.00
Pay £45 Deposit Now & Pay Tutor £66 Balance Later, Instalment Options Available
The Gateway To Your Potential
Established 1998 – Trusted, ITEC Approved, Professional Courses. Recognised Qualifications for Beginners to Established Therapists.
We started with just workshops and now we are the leading experts in our industry for professional courses – Latest up to Date Training
Popular & Affordable Courses with over 25 Passionate Expert Tutors
Located in London, all around the UK, Scotland and also Ireland
We also offer in-house training, we currently train all of Bobbi Brown's UK staff yearly, Channel 4 Make-up Artists and at Top Hotels and Spas
Receive these Gifts when you Train with us – Giving you added extra of over £50!
FREE TO ALL OUR STUDENTS WHEN YOU ATTEND:
Anatomy and Physiology e-manual
Copy of our therapist accounts package
Access to our complimentary 'Hands Free' Massage Video Download too!
Access to course reference videos helps you remember routine taught
Discounts off therapist insurance and products
Course Bookings
Book your place now to secure the date you require, we have regular dates both weekends and weekdays at over 20 locations across the UK, Scotland and Ireland
Our online accredited courses are still running and available to book now – with full tutor support and expert guidance when needed.
Providing you the highest level of hygiene and safety at our venues.
It is vital we maintain high standards in our industry, when you book with us you receive the best training, with tutors who are the leading experts.
Latest therapies clients want – Insurable Training for Professional use.
We are award winning due to expert tutors, top rated courses & after-care, looking after our loyal students.
Why Are We Different?
Started in 1998, solid history, proven track record means we know what we are doing and really look after our students
Expert tutors offering regular weekly dates at over 25 locations across London, all around the UK, Scotland & Ireland
Constantly striving to deliver the best courses, great manuals included in the price and many reference videos and helpful after course material
The products you work with on the day and your manuals are all included in the price of the course
Our Promise – Need to Repeat Your Training?
For one day courses held at our venues, YOU CAN do this at no charge!
Worried that one day's training may not be enough? We have you covered
Due to the 1-1 attention in small classes with our excellent trainers
We have back up DVD's or you can repeat the course within 6 months (at a time which is convenient to both parties) at no charge.
For Full Course Information and to Book Please Follow the Link
Menopause Nutrition and Weight Loss Management Practitioner Online Cou – Gateway Workshops Online Courses
Contact
E: sue@gatewayworkshops.co.uk
T: 03331210742