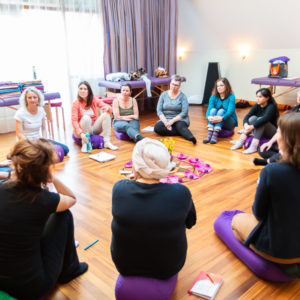 Description
Join me on this 5 day immersive journey to learn in depth Practical, Spiritual and Theory on how to work with women and their wombs. This is not just for fertility, it supports women through all life cycles.
A fertile womb allows for a creative and juicy womb and woman!
This is NOT just another massage course, it's life changing- a mantra many previous students repeat on every course!
You will learn:
❣️How to massage the womb, abdomen, lower back and coccyx to help improve circulation, ease tension and break down scar tissue whilst also holding a Safe space for women to unravel and release so they can come back into their bodies feeling full and whole!
You will experience:
❣️Womb Blessings, meditations, womb & menstrual medicine circle, Restoring The Soul Ceremony and other ceremonies…
Every woman's journey on the course is unique but many find it empowering and changes their career path.
You will receive:
❣️A comprehensive Handbook, Online Theory Videos and Handouts and a full practitioner Massage DVD. After the course you will join the other 650+ therapists in a closed Facebook group to continue the love, support and sisterhood.
Course Outline
Day 1
Welcome Circle + Cacao
Womb Blessing & Meditation
Inner Core Wounds
Embodied Dance
Basic Anatomy & Physiology
Womb Massage Demonstration
Womb Massage Practical
Day 2
Sharing the energetic aspects to the Abdominal Massage including Birth Imprints
Introduction to Entangled Roots Therapy
Abdominal & Womb Massage Demonstration
Abdominal & Womb Massage Practical
Day 3
Revisit Womb + Abdominal Massage
Menstrual Seasons & Archetypes Discussion
Womb Medicine – explore the four archetypes with an embodied experience
Reflective Writing
Day 4
Discussion on Energetic approach to Lower Back + Coccyx, including Orgasms
Sacral Massage Demonstration
Sacral Massage Practical
Rebozo & Restoring the Soul Ceremony
Reflective Writing
Day 5
Q&A
Complete Fertility Massage Practical
Practical Assessment
Reclaiming Spiral Ceremony along with Fire Release + Commitment
Close
Insight into the Womb & Fertility Massage Therapy
Click this video link to see an overview of the Womb & Fertility Massage Therapy
This video shares a brief insight into what the course feels like. Click here
Here's an interview I had with Kush Kumar, CEO of Think Tree Hub. Click here
NOW Open to Non Massage Therapists
If you are interested in attending the Womb & Fertility Massage Course, but do not have the pre-requisites of a previous bodywork qualification, we are delighted to offer a FULLY ACCREDITED Diploma Course.
To be fully insured and accredited as a Womb & Fertility Massage Therapist, you are required to have the following qualifications:
The L3 modules have been created and approved by Think Tree Hub.
For more information on the Womb & Fertility Massage Course, visit here
Download the Course Prospectus here
Watch Students testimonials here
Contact
E: info@fertilitymassage.co.uk
T: 07713477511